Law and Artificial Intelligence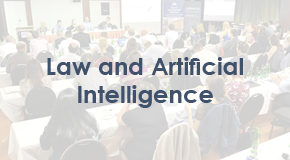 Law and Artificial Intelligence
Datum konání
14.11.2019 09:00
Místo
MICROSOFT, s.r.o., Vyskočilova 1561/4a, 140 00, Praha 4 – Michle
Konferenci již nelze zakoupit. Prosím, kontaktujte nás na telefonu 606 761 303
Partner konference
EPRAVO.CZ
Máte zájem o větší počet míst? Volejte 606 761 303.
Popis
Law and Artificial Intelligence
The conference "Law and Artificial Intelligence" is intended not only for legal counsels and in-house lawyers, but also for everyone interested in the latest trends in the field of AI, machine learning and related technologies. The program of the conference will focus on news and trends in European and national legislation related to the development of artificial intelligence. The conference will also provide an insight into the use of AI in various industries, which may raise different legal issues. Speakers will also address various other legal issues related to artificial intelligence such as ethical aspects, protection of privacy and personal data, protection of intellectual property, consumer impacts, private responsibility and cyber security.
Program:
08:30 - 09:00 Registration
09:00 - 09:05 Introduction
09:05 - 11:05 Part I
11:05 - 11:25 Coffee Break
11:25 - 12:55 Part II
12:55 - 13:10 Final Remarks
Speakers:
Jeff Bullwinkel, Associate General Counsel and Director of Corporate, External & Legal Affairs, Microsoft Europe (AI and ethics)
Ben Weinberger, Legal Operations Director, Dentons, Nextlaw In-House Solutions (Practical Applications of AI in Legal Today)
Mgr. Alžběta Krausová, LL.M., Institute of State and Law of the Czech Academy of Sciences (Regulation of AI)
Dmytro Turchyn, Artificial Intelligence Lead, Central & Eastern Europe HQ, Microsoft (AI in knowledge Mining scenarios)
JUDr. Ondřej Kramoliš, senior associate, Allen & Overy (AI and liability for damage)
Mgr. Jana Pattynová, LL.M., partner, Pierstone (AI and Privacy)

Jeff Bullwinkel
Jeff Bullwinkel serves as Microsoft's Associate General Counsel and Regional Director of Corporate, External & Legal Affairs for Europe. He is based in Amsterdam and oversees the company's legal and corporate affairs teams across the region, providing support for commercial transactions and regulatory counsel on public policy issues such as IPR, cybersecurity, competition, and international trade. Mr. Bullwinkel joined Microsoft in 2000 and previously held a number of senior roles with the company across the Asia Pacific region, based in Hong Kong, Singapore and Sydney.
Prior to joining Microsoft, Mr. Bullwinkel was with Simpson Thacher & Bartlett, an international law firm based in New York. Mr. Bullwinkel also served as a federal prosecutor with the Office of International Affairs, Criminal Division, US Department of Justice, where he was responsible for a wide range of matters relating to international law.
Mr. Bullwinkel is originally from the New York area. He graduated from Duke University with a Bachelor of Arts degree and received his law degree from New York University. He is a member of the New York State Bar.
Ben Weinberger
Ben Weinberger is the Legal Operations Director for Dentons' Nextlaw In-House Solutions where, along with a team of more than 60 former GCs plus other business services professionals, he advises law departments on all aspects of operational improvements. Ben previously held leadership roles at two global legal technology companies, a top UK law firm, two Am Law 200 firms, and the largest municipal law office in the US. He is a licensed lawyer and self-professed technology geek with extensive experience in the strategic development, transformation, and direction of operations and technology in a variety of public and private organizations. Ben has consulted on projects for various multinational organizations including The Walt Disney Company and Chevron. He previously practiced law in Chicago after clerking for the Federal District Court. He is a regular speaker on such topics as Emerging Technologies and Transformational Trends in Legal, including the application of Artificial Intelligence. He holds a BA in Economics from the University of Michigan and a JD from the University of Wisconsin.
Alžběta Krausová
Alžběta Krausová is a legal scholar at the Department of Private Law of the Institute of State and Law of the Czech Academy of Sciences, head of the Center for Innovations and Cyberlaw Research (CICeRo project, an external lecturer at the Faculty of Informatics of the Czech Technical University and at the Faculty of Law of the Charles University in Prague, a public speaker, and a member of the Expert group on New Technologies and Liability at the European Commission. Her research specializes on legal aspects of artificial intelligence, robotics, brain-computer interfaces, and merging technology with organic life.
Alžběta received her LL.M. in law and legal science from Masaryk University Faculty of Law in 2007 and her LL.M. in intellectual property and patent law from University of Haifa Faculty of Law in 2014. She is currently a doctoral student at the Institute of Law and Technology at Masaryk University Faculty of Law. In the past Alžběta also worked as a researcher at the Interdisciplinary Centre for Law and Information Technology (ICRI, now CiTiP) at Katholieke Universiteit Leuven in Belgium.
Dmytro Turchyn
Dmytro Turchyn leads Microsoft's AI Product Marketing in Central and Eastern Europe (CEE). He is a Data & AI expert and enthusiast with 15 years of experience in IT who has been involved in end-to-end Business Development and Management, as well as Applied Math and Neural Networks. Dmytro helps customer and partner organizations in the CEE region to transform their businesses through the power of AI platforms and tools.
Ondřej Kramoliš
Ondřej Kramoliš specializes in the area of protection of personal data and IT law. He has been involved in a number of data protection projects, including advising life sciences sector clients on several cross-border matters. Ondřej has also dealt with selected regulatory matters in various areas of law. He advises many clients on cross-border data protection compliance matters in the EMEA region, data protection audits, cross-border transfers of data, including to the USA, and on bank secrecy and regulatory aspects. His experience includes assistance to Novartis Business Services (NBS), which services various members of the Novartis group, on methodologies and requirements of the client in relation to outsourcing agreements originating IT and outsourcing projects. Ondřej was seconded in October 2017 to our London office for six months where he advised on a number of global projects related to the implementation of GDPR.
Ondřej regularly contributes to industry conferences and is quoted in the business and legal press on the subject of data privacy, cyber security and IT law. Recently he was invited to speak at the 2018 CEE GC Summit, Balkan Legal Forum – 'The Future of Law: Technology and Legal Services in South East Europe 2018'.He has also led seminar on the topic of GDPR to members of the Czech Union of In-house Counsels or attendees of the annual Czech Export Forum.
Jana Pattynová
Jana Pattynová is recognized as a leading technology, telecoms and privacy lawyer in Central and Eastern Europe. Her experience includes advising on some of the largest IT and telecommunication transactions in the region as well as many projects relating to data protection. Jana regularly lectures on GDPR as well as the legal aspects of IoT, AI and fintech. Independent legal directories consistently rank Jana as a leading expert in technology, media, telecommunications law and data protection. She is a member of the Czech Bar Association and the Slovak Bar Association and speaks Czech, English, French and German.
Cena včetně DPH:
2 790,00 Kč